This overview allows you to peruse through transactions filtered with your search criteria.
At the top of your screen, you can find a recap of all the selected filters.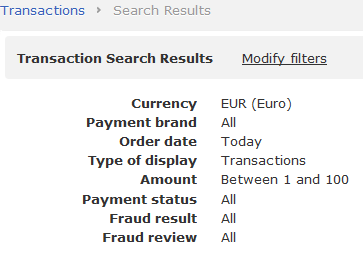 You can

, launch a 

or 

(same as

).
Here is a typical Transaction display. By default, results are sorted in reverse chronological order.

Your HiPay Enterprise back office gives you the possibility to view a simple listing

or an extended listing whenever the "Balance" column includes multiple operations (e.g.:

).
For details, click on the small blue square (the number indicates the number of related operations).

To view transaction details (Transaction Preview), click on the blue "Transaction" reference number.