Right from the start, simplicity pays!
First, sign in to your HiPay account by entering your login and password on https://professional.hipay.com.
To recover your password, just click on

and enter your email address to receive instructions on how to reset it.
If your credentials are linked to several accounts, select Wallet to log in to the related interface.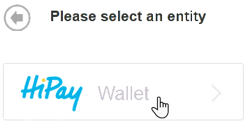 And voilà! You just logged in to your brand new HiPay Professional back office.
For an interactive guided tour, we invite you to click on

.
To log out, just click on

at the top-right corner of your screen.